Spotify Audio Player Menu Bar Mockup
July 19, 2012
PSD Resources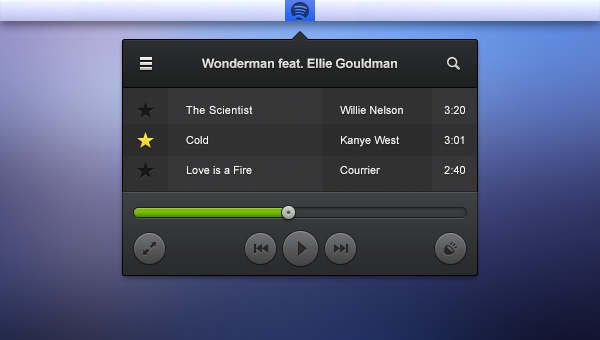 Download

4081
If you like our resources, please share them to help us grow:
For download today, we have a clutch implementation of a super crisp yet mini Spotify audio player app right in the OS X menubar by Victor.
Our good friend Victor Erixon proved himself a star designer once again with this awesome mini Spotify player app that is just begging to be coded up for use! Featuring the iconic dark Spotify theme with green accents, this wonderful mockup would fit right in with the full blown OS X application.
Not a fan of Spotify? That's okay. This player could double as almost any other kind of video and audio player as it has all the right elements to complement a neat, fully-featured web or desktop media player. Grab it now and use it in your next project!